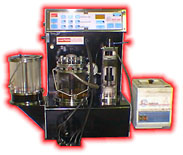 K-W Fuel Injection has the solution. We are using the NEW AGE EFI 2001 Service Unit to service electronic fuel injectors. Our fuel injector cleaning system has been extensively researched and as a result has revolutionized our approach to servicing electronic fuel injectors.
Injectors are unlikely to need replacing during the entire lifetime of a vehicle if properly maintained by the New Age EFI 2001 Service Equipment. This process includes ultrasonic cleaning, flushing, backflushing, checking the calibration, checking the spray pattern and checking for leakage.
Go to our feedback page to request more information.